Archeology Field School, our first three-week intensive, will take place May 23 to June 9, 2017. This three-week emersion experience was initiated in 2005 in collaboration with Tanana Chiefs Conference (TCC). In late May every year, 18 – 21 students have trained for two days in Palmer, then traveled to remote dig sites spanning from the Brooks Range, to the Yukon River, to Healy Lake, and most recently,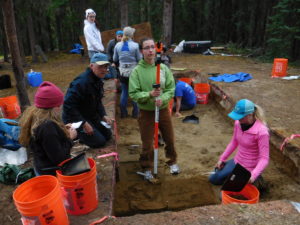 to Deadman Lake, near the Canadian border in Tetlin National Wildlife Refuge. Over the next 13 consecutive days students from around the district perform actual scientific research and complete course requirements for Principles of Archeology, Alaska Wilderness Studies, and Contemporary Alaskan Literature. We then pack up our tents and sleeping bags and head back to Palmer for two days of final projects, gear clean up, and acclimation to electricity, cell phones, and hot showers.
You can learn more about field school and see photos in a Frontiersman article by Caitlyn Skvorc: "Summer archeology course gets students dirty learning." click here
Archeology Field School can use your help. Our school district and TCC continue to cover major expenses of staffing, scientific equipment, and camp supplies. Other needs for this year's program which fall outside of our school's start-up budget include the following:
– Fuel for three vehicles on a 700 mile round trip (total = $500)
– Food for 13 days for 25 people at a remote camp (total = $2,000)
– Wood stove for our mobile classroom/yurt (total = $300)
If you want to support this unparalleled learning experience for youth please consider making a tax-deductible donation to Partnership for Arkose Ridge Leadership Academy, ARLA's federally recognized 501(c)3 non-profit. You can do this quickly, easily, and securely using PayPal by clicking here.
Thank you for support at any level!