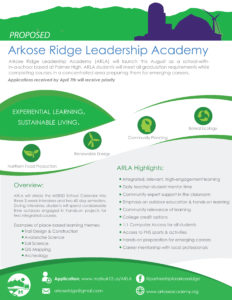 Interest continues to grow in ARLA so we're in the process of organizing additional informational gatherings in the next couple weeks.
One will be on Saturday, March 25 at the Get Connected Expo! at Mat-Su College from 10 – 2. We'll have a slide show, flyers, and a computer to complete online registration.
Meanwhile, if you have questions, please contact us at arkoseridge@gmail.com. Also, please feel free to direct interested persons to http://www.arkoseacademy.org/. The ARLA enrollment application is on the district site at  http://www.matsuk12.us/Page/34867.